Release Your Songs With Organic Growth Built In!
because 70% of music is passively heard, algorithmic organic plays is key to every artist's success
Traktomizer takes a look at your music through the algorithm's lens to help drive your song's automatic, organic and free recommendations.
Grow Organically. Forever. For Free
Maximise your song's earnings and longevity without compromising your artistic freedom. Become noticeably more visible, playlist-worthy and automatically recommended on streaming music platforms like Spotify, Pandora, Googleplay and Apple Music!

What Search Engine Optimisation is to Google, Traktomizer is to Spotify.

Master-in critical audio tweaks for automatic streams and music discovery

Matching music bot calibrations gets you auto-playlisting regularly, for life.

Identifies strengths, weaknesses and suggests improvements.

Compare your song audio features with any song in recorded history.

Get the top 15 Genres for each song to mention in promotions and social spaces.
Traktomizer analyses your song and then shows you a ranked list of audio tweaks ordered by least amount of modification for greatest gains in your song's power to self-perpetuate via automatic play-list selection.
Gauge your song's chartability rating in seconds. Measure increasing potential at each iteration of your W.I.P. production. Gain confidence from early stages to completion that you are on the right track.
Benchmark up to 50 songs at a time. Automatically grow your local database of meta-data about all the songs you benchmark. Define an exclusion list of songs to avoid benchmarking any wildcards.
Batch identify danceability, acousticness, instrumentalness, valence, duration, energy, liveness, loudness, speechiness, tempo, mood, instrumental/vocal ratio, genre, sub-genre.
Compute best genres, terms, keywords for your songs by comparing 50 similar songs discovered by using only your song's audio properties.
Properly adjust dynamic range, peak audio, and A-weighted RMS using our built-in, accurate, loudness and dynamic range testing routines.
Compare all social media activity with benchmark artists for the sites and metrics that really count. Discover where, when and how much to post.
Reveal all your songs' strong and weak audio features in elegant, animated SVG charts you can customise, embed, post and share.
Explore your songs with beautiful charts.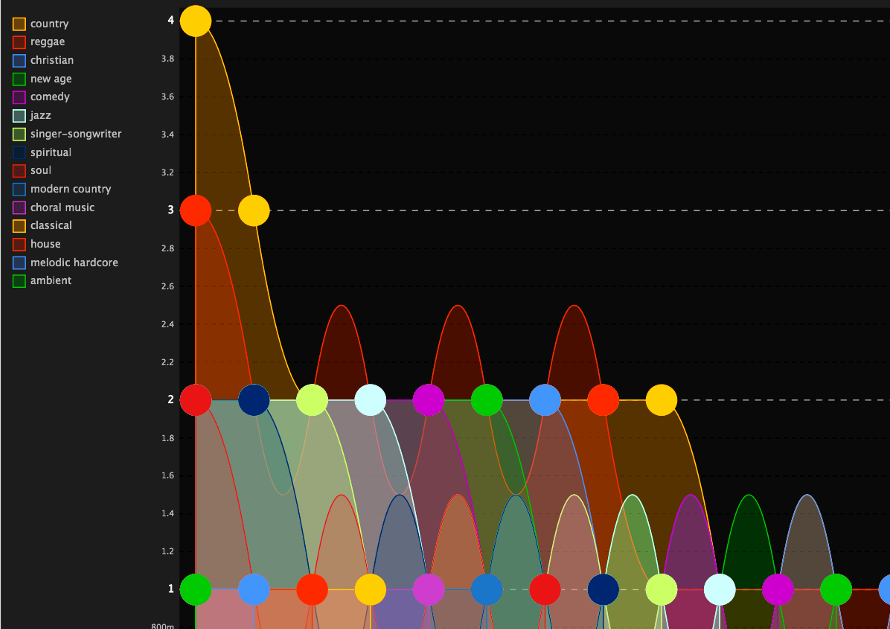 Benchmark 100 Million Songs
Explore your audio with lightening-fast OpenGL and compare your songs side-by-side with every song you benchmark during mixing and mastering.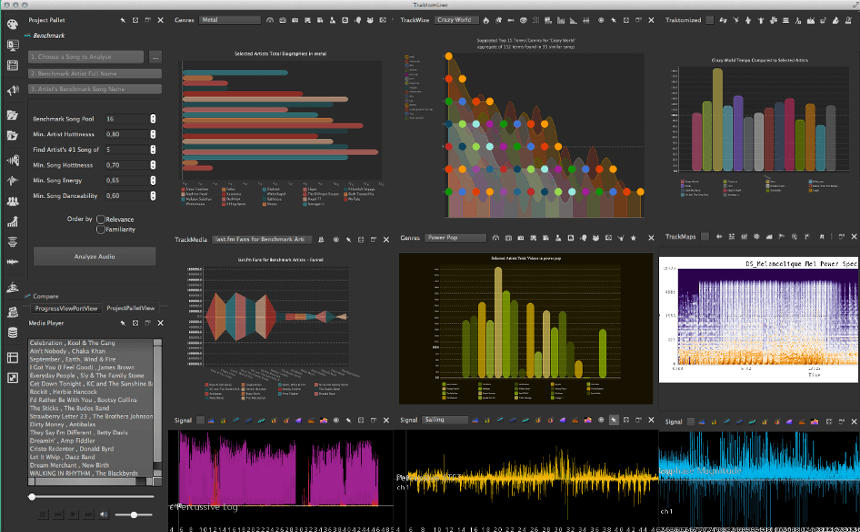 The first record label to buy Traktomizer, we put it to use on a premaster-mix and within days of releasing, our song hit the 2016 Official European Independent Music Top 20, charting at #18.
Susanna Lepianka
Record Label Owner, DyNaMiK Records, Ireland.
This is an awesome tool to assist you in getting your music heard by the mass public! Tired of uploading and 2 months later you're still sitting on 80 views? Then Traktomizer is for you!


Jacques Bez
Record Label Owner, UFO Records
A one-of-a-kind, gorgeous and perfectly executed program. An essential tool for serious musicians, music producers and artists.


Andy Prinz
Owner, Andy Prinz Publishing
Premaster audio litmus test reports those audio features and deviations crucial to success on streaming media platforms.


Zaneel Taylor-James
Principal, Ethereum Streaming, Berlin
Traktomizer Audio Analyser
For Recording Artists, Record Labels
and Music Studio Professionals
Lifetime Support & Updates
For Music Listeners and Digital
Music Library Owners
Lifetime Support & Updates
NEW Batch Audio Analyser CLI
Command-line audio analysis for Windows and Macintosh Music Library Owners
Lifetime Support & Updates