Traktomizer Audio Analyser 3
〉 identifies your songs strengths and weaknesses throughout production
〉 suggests crucial audio tweaks for maximum earnings on music platforms
〉 identifies the most lucrative 15 genres to mention in your song promo
〉 optimised audio results in organic playlist selection and self-perpetuation
〉 constant skills improvement through comparative iteration-benchmarking
〉 detailed social-media analytics gets you focused on worthwhile conversations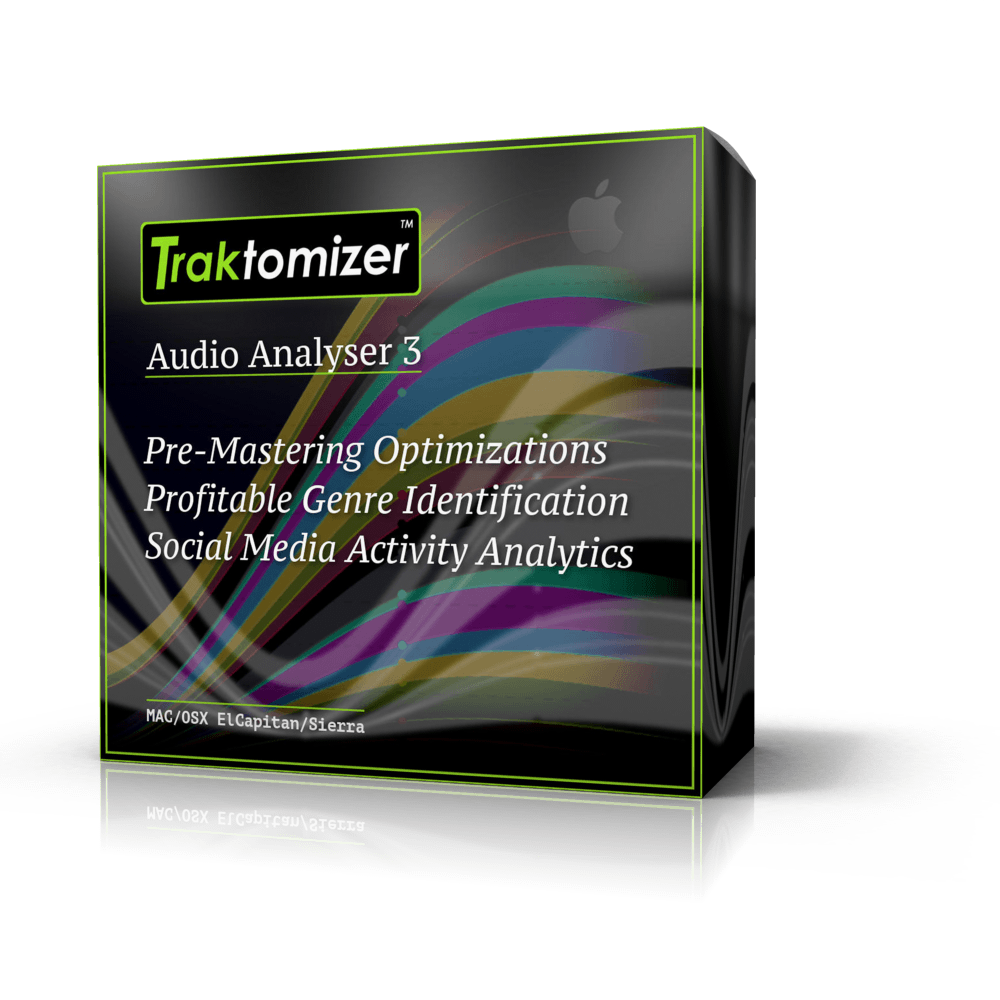 Welcome to Traktomizer
Traktomizer identifies crucial song optimisation tweaks which maximise probabilistic auto-selection on music playlists – because the power to create wealth from publishing music lies in constant inclusion on billions of playlists every day.
MILLENNIAL AUDIO ANALYSIS
Traktomizer audio analyser software for music producers accurately measures danceability, acousticness, valence, instrumentalness, duration, energy, key, liveness, loudness, speechiness, tempo and time signature, for songs, tracks or passages of all kinds of music and speech. Levels for anger, relaxation, happiness and sadness are measured and compared with known big data ground-truth models.
With Traktomizer, increases in auto-play-listings, song recommendations, Artist discovery, and short and long-term earnings are logical and reasonable expectations.
FAILURE TO MAKE THESE PRE-RELEASE CHECKS PROBABILISTICALLY RENDERS THE PUBLISHED SONG INVISIBLE AMONG 50 MILLION OTHERS
BEAUTIFUL ANIMATED SVG VISUALISATION
Traktomizer exploits the latest in accelerated 3D OpenGL GUI design, providing fast, tactile and aesthetically gratifying access to a plethora of contextual visualisations, turning interpretation into action.
"We were the first record label to buy Traktomizer and we put it to use on a premaster-mix. Then within days of releasing, our song hit the 2016 Official European Independent Music Top 20, charting at #18. Now it feels like we can't do without it. Well done!"
Susanna Lepianka
Audio Mastery
Traktomizer Identifies Your Song's Greatest Strengths and Weaknesses for All the Audio Vectors the Top Music Platforms are Trained on for Appraising Music. Traktomizer Sorts and Individually Ranks Each Audio Property by their Power to Influence Your Music's Production Quality. The End-Result is an Ordered List of Audio Tweaks which Require the Least Modification for the Greatest Gain in Audio Production Quality.
Increasing Artist Discovery & Auto-Suggested Song Plays
Maximise Your Song's Potential Earnings, ROI and Longevity Without Compromising Your Artistic Freedom. The Right Tweaks Can Significantly Affect the Audio Vectors to which the Song-Suggestion-Algorithms are Calibrated. Every improvement in Algorithmic-Like-ability will have a positive knock-on effect on your song's recommendations. Traktomizer Provides the Opportunity to Gain Assurances of Being Noticeably More Visible, Playlist-Worthy and Recommendable by Subscription Music Platforms, such as Spotify, Apple Music, Deezer, Pandora and a hundred more.
Production Benchmarking
Compare Your Song's Audio Properties with Every Song You Love and All the Productions You Admire.
Benchmark up to 50 songs at a time.
Automatically grow your local database of meta-data about all the songs you're benchmarking.
New: Define an 'exclusion list' of Artists and Songs to avoid Benchmarking any you don't like.
Dashboards & Summary Reports
Song Analysis Results are Presented in Modular Views and Dashboards and Transcribed to Acrobat PDF. Audio Visualization Gauges Create the 'Birds-Eye View' of Important Highlights and You Can Easily Drill-Down to Access Details or View Interactive Charts with a Couple of Clicks.
Progress Viewport & Trace Report
Traktomizer has a Floatable 'Progress Viewport' which is Constantly Updated with Trace-Feedback During Tasks that Request Data from Remote APIs. The Viewport Shows What's Happening, the Information it Receives, and What's Happening Next. The Trace for Song Audio Analysis, Similar Song Discovery and Suggested Genres is Transcribed to Acrobat PDF and Stored on Disk.
Custom Active Audio Charts
Instantly Compare the Inner Workings of Any Song with Any Number of Benchmarks.
Song Benchmarking and Audio Analysis Visualisations Reveal Your Songs' Strong and Weak Audio-Vectors in Elegant, Animated SVG Charts You Can Custom-Create, Style, Scale, Embed, Post and Share.
Chartability Rating
Gauge Your Song's Chartability Rating.
Measure Increasing Potential at Each Iteration of your WIP Production.
Gain Confidence From Early Stages to Completion that You Are On The Right Track.
Iterations Analysis
Focuses Your Creativity Throughout Production on Critical Aspects That Can Make or Break Your Hard Work. Make Perfect Pre-Master Mixes Your Engineers Can Immortalize.
Interactive Sound Navigation
Explore Sound with Lighting-Fast Open-GL Graphics that is Immersive and Meaningful. For Example: See Whether Your Song Tends to Increase in Volume and Speed, a Noticeable Trait of Charting Songs.
Dynamic Range Tests (dBFS)
Get Your Song's Dynamic Range, Peak Audio and A-Weighted RMS Levels Sorted with Built-in, Accurate Testing and Readings.
Social Media Activity Tracking
Compare Your Level of Social Activity to Your Benchmark Artists for Every Site and Metric that Counts. Popularity Doesn't Make Good Music But Knowing Where, When and How Much to Post, Motivates Follows, Friends and Fans To Support Your Releases.
Genre, Terms and Keyword Identification
Traktomizer Computes the Best Genres, Terms and Keywords for Your Songs by Comparing 50 Similar Songs which are Discovered by Using Only Your Song's Audio Properties. The Result is Total Objective Analysis at its Best!
Decomposition to PNG & Persistent Byte-Array
Automated Transposing of Your Song Audio-Data into PNG Images and Persistent Byte-Arrays is Useful for Analysis and Remixing, Beat matching and Using and Visualising in other Programs
Benchmark Playlist Generation
Traktomizer Produces a Benchmark Songs Playlist During Audio Analysis. Our Purpose-Built, Integrated Mp3-Player Can Play the List as a Continuous Stream.
Artists and Songs Database Management
Your benchmark Artist and Songs Analysis Data is stored locally so you can instantly chart comparatively.
Navigate thousands of Artists and Songs, apply filters, sort, search, export and update on demand.